Mumbai Lip Blush & Neutralization
5 day class for Semi-Permanent Brows
This program is designed to provide students with a concrete foundation and understanding to properly perform these semi-permanent procedure. This hands on 5 day course will consist of theory and learning with live models.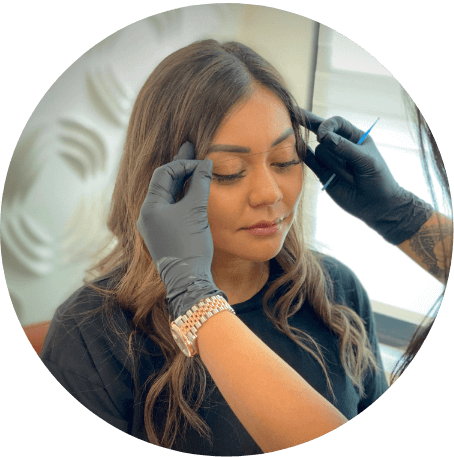 Microblading is a process that manually draws each brow hair using a microblade. This process fills any gaps in your natural brows and leaves a realistic and natural hair by hair brow profile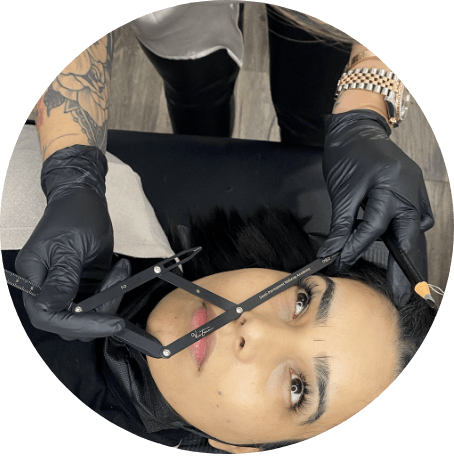 Ombre Brows or Powder brows is a process using a digital machine that inserts fine pixels of pigment into the skin. This process gives a soft penciled/powder finish usually achieved only with makeup.
Combination brows is exactly as it sounds. It combines the strokes of microblading with the powdered look of Ombre brows. The microblading strokes are placed at the beginning of the brows.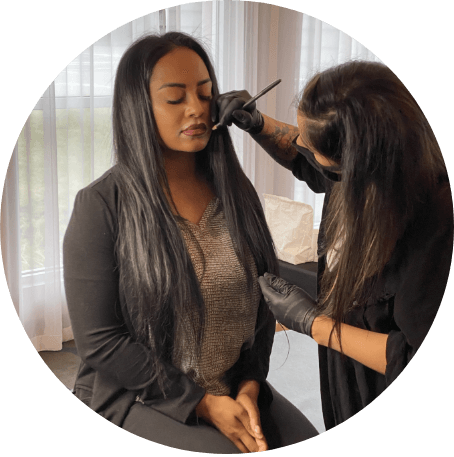 Lip correction is required to hide hyperpigmentation. Darkening of the lips can be the result of hyperpigmentation. This is a harmless condition caused by melanin. Orange pigment is required to hide hyperpigmentation. They will heal to pink tones. 2- 4 sessions may be required for the correction hyperpigmentation .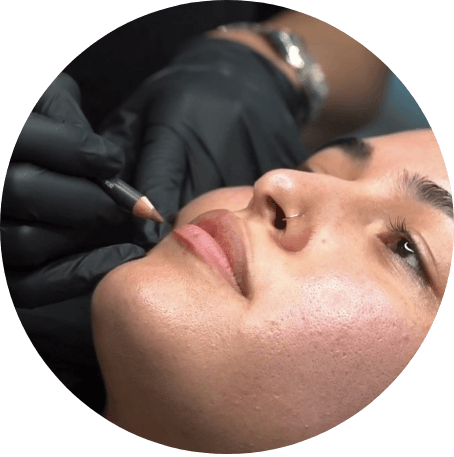 Lip blush is a game changer in semi-permanent makeup. The end results are natural and soft; looks similar to a lip stain..
Brow lamination is a trending brow grooming treatment That involves a perm that holds hairs in a slicked up shape to hide small gaps and give the illusion of full and bushy brows. Last 6-8 weeks.
Eyebrow threading is nothing more than thread held between a technician's hands and in some cases, their teeth as well in a twisted configuration. As the technician moves their hands, spaces open between those twists and then tighten again, grabbing and holding onto hair, and pulling it free, root and all.

Listen to what our students have to say
Sana Shaikh
Victress academy has always taken care of their customers. Be It eyebrow microblading/ microshading or lip blush enhancement with dedication and care. Very reliable and prompt in their service. Wish I had more than 5 🌟 out here to rate victress...Highly recommended 👌 A big big shout out to the gorgeous and most talented mentor of victress MEENAL BHANUSHALI ❤️

Beena Fernandes
Hi, I recently finished my 9 days participation course for eyebrows and lips with Minal Bhanushali. It was great experience. Minal explain each and every thing in detail. Thank you victress team.
Shubhangi Pawar
Thank you Victress academy for this wonderful course.special thanks to Meenal that she taught us such a way that one can not get demoralized.she pays personal attention on individual student.Meenal is a wonderful teacher. She makes sure that you will excel in your practical knowledge as well as theoritical knowledge..she remains always strict in terms of hygiene ..Thanks Meenal for being our teacher.i would like to enroll for another courses as well..
Lavanya Arsiwala
Hi , I did the PMU course at Victress Academy, and I've really enjoyed my experience here . The PMU instructor Minal was very very good. She is a very patient and good teacher. She cleared all my doubts and answered all my questions. She is a very good mentor and was very friendly while teaching. Thank you Minal and Victress for this experience.

Hasti Bheda
Amazing place to get brows done. I got Microblading done by Mina and she did a wonderful job at it. They take extreme care about the products they used and it's disposal. Would definitely recommend Victress Beauty to everyone!! ❤❤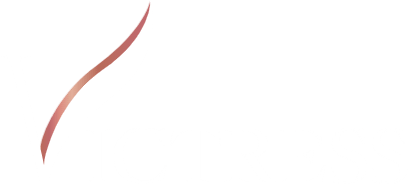 Raman Chohan is co-owner of Amour Beauty Lounge in Canada and Victress Beauty Academy in India. Raman also teaches semi-permanent makeup worldwide.